AUCTION - BLEM Nine Lives Plastic Splitter Ramps By Morlind Engineering
AUCTION HAS ENDED
End date: 01-16-2023 - 03:30:00 PM
Winning bid: $132.00 (14 bids)
minor issues, but not unusable blemishes just do not fit for full price quality inspection
These plastic splitter ramps are not ordinary, they are finely crafted by Morlind Engineering. The same people that developed aero packages for The Riley Daytona Prototype, The Panoz Esparante, and The DeltaWing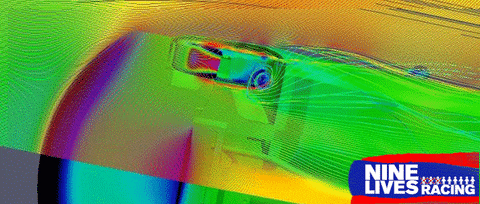 Note, the black is Downforce. Notice how it grows when we introduce our ramps. 
All ramps are 83.9 square inches. 
These ramps can give an incredible 10% bump in downforce. Front aero is already hard to find and now it's easy. 
Made at Nine Lives in-house plastic former.
1/2" standoff for ease of install. 
 Up to a 10% downforce increase has been recorded
sold as pairs.
All auction items sold as is without warranty.
*IF NOT PURCHASED WITHIN 2 DAYS OF AUCTION ENDING WILL CONTACT RUNNER UP OR PUT ON NEXT AUCTION*